Last Updated on December 29, 2022 by Mark Norman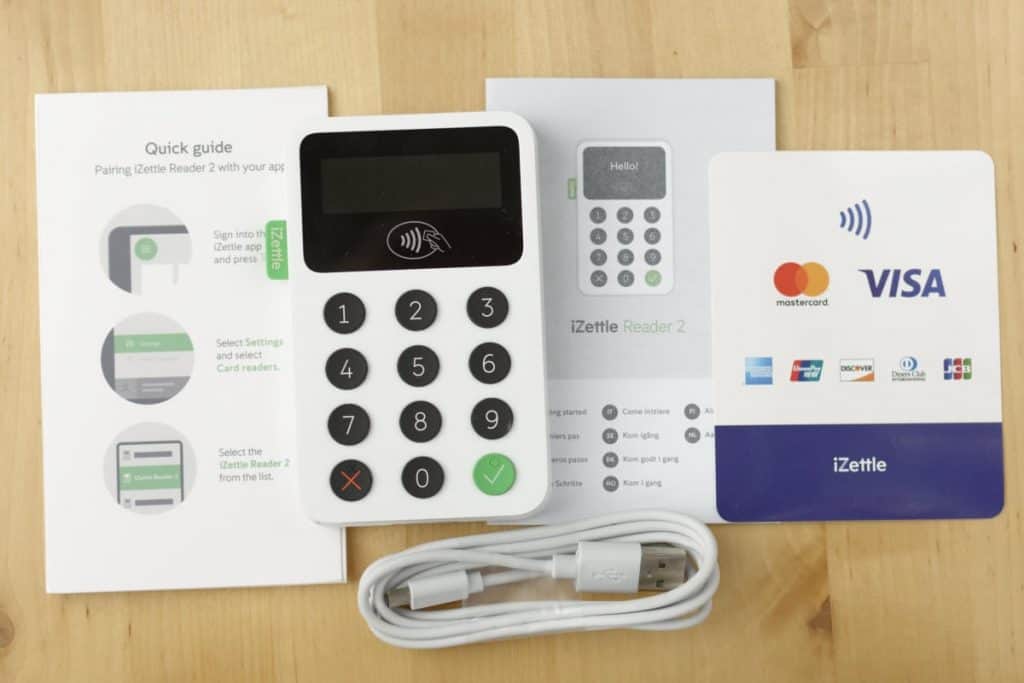 There are a range of Bluetooth card machines available on the market today, way more than there were a couple of years ago. Sidestepping away from the chunky and unsightly chip and pin fixed to a counter, small businesses (typically with transactions less than £20k a month) can now have smaller, sleek, and more functional card readers that work equally as well.
The iZettle is currently the best all-round contactless card machines to use at events. It offers the widest choice of card accepted as well as all the major contactless card services such as Apple Pay, Google Pay and Samsung Pay.
Card machines are a great, cost-effective, and easy to use tool for any event business. Over the past few years, there has been a steep increase in people using cashless payment whether it's through their debit/credit card, apple pay (via phone or watch) or Google pay. In today's society, it's seen as an inconvenience if someone doesn't have a cashless payment option. Additionally, in light of current times (whilst we are in a global pandemic) cashless payment is even more desirable and valuable for a business.
When it comes to choosing a card machine for an events business, there are a few things you will want to consider in order to get the most out of it. Firstly, I should point out that different machines work better or worse in different locations so just be mindful of this. For example, your location could be:
Outside at a festival
In a warehouse/remote venue
In an exhibition centre
In a shop/pop up
The biggest barriers with card machines and locations usually are down to signal for the card machine to make the transaction and also power (to charge the unit and or your smartphone). Another key factor is how often you will be using the card machine for your event or business. Daily, monthly once a year? Depending on different readers available this can affect your value for money and overall cost of your card reader.
How do contactless card readers work?
Contactless payment is taken via an app connected to a Bluetooth card reader. The app is provided by a merchant who will process the payment for a transaction fee. The money taken will usually be available within 1-3 days in the nominated bank account.
As a general rule, you get a small card machine which then connects via Bluetooth to a mobile or tablet. On that device, you will need to download an app which then operates the card machine. You are then ready to use it simply by getting someone to tap contactless or enter their pin, just like your normal card machine.
Most then don't have a monthly fee or require a contract (although you can often add in some subscription options with your chosen provider). You just need to purchase the card machine at a one-off cost and pay a transaction fee on a Pay as you go basis.
One thing to point out is that you will need either a Wi-Fi connection or 3G/4G connection for the transaction to be processed.
Below I have listed 5 of the most popular card machines for event businesses, listing out some highlights, things to consider as well as costs to help you make more of an informed decision as to what suits your event business the best.
1. Square Terminal
Highlights
Accepts Mastercard, American Express and Visa, both contactless and chip and PIN
Can save cards on file for repeat payments
Can be used to sell online, collect payments via invoices and by phone
Fixed rate of 1.75% per transaction
Remote payment (via a link to a customer @ 2.5% transaction fee)
No minimum transaction fees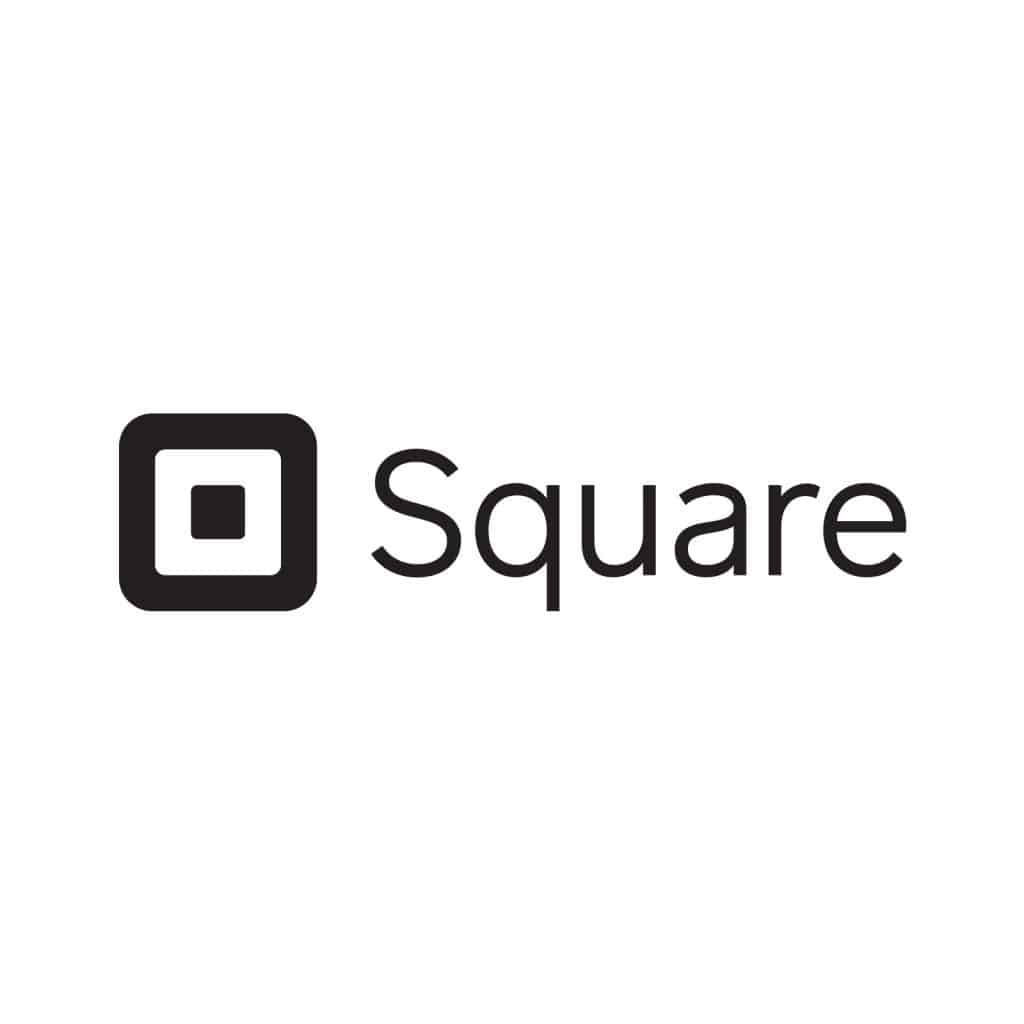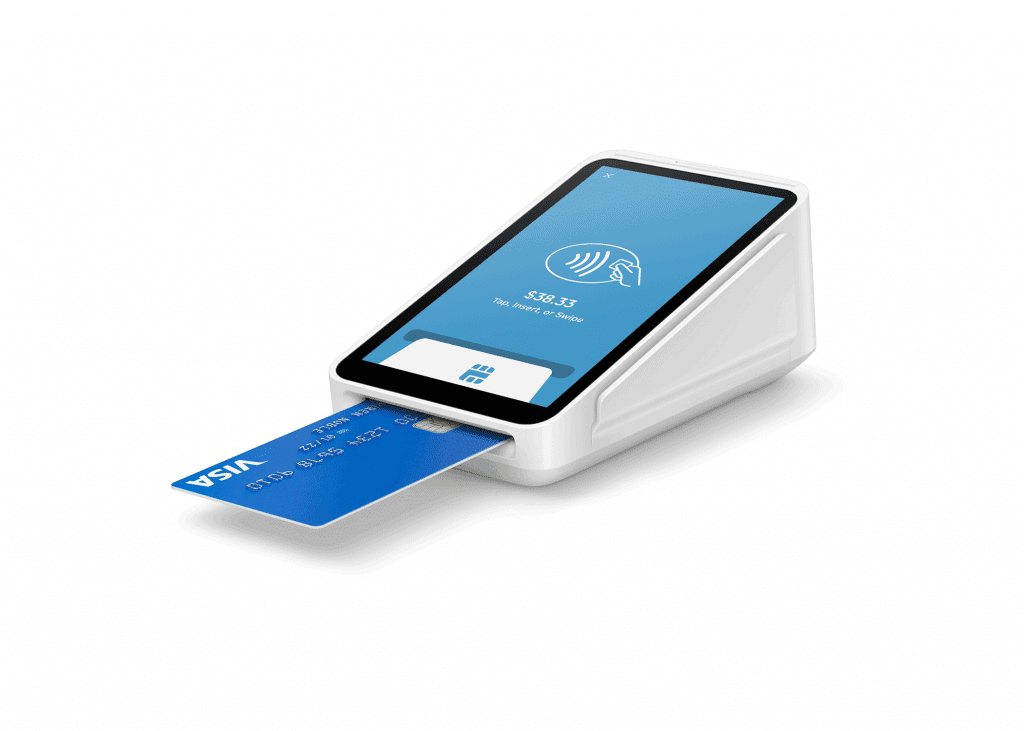 Cost
£19 + VAT one off cost for the card reader
No contract or inactivity fees
There are a series of add-ons that Square offer. To list a few:
Can print receipts from the terminal
Inventory management via the App
Can sync other apps to it to help with business paperwork e.g. accounting, analytics etc.
Can track employee performance using the App
Square reader is a cost-effective and user-friendly reader for any business with the advantages of having integration between payments and accounting across your business.
2. Zettle
Highlights:
Accepts the widest range of cards out of all 5 in this post (including apple pay)
You can choose the colour of your card machine (black or white)
No set up or delivery cost
Fixed rate of 1.75% per transaction
Remote payment (via a link to a customer @ 2.5% transaction fee)
Refunds are free to process (and you get the transaction cost back too)
Charges via a USB or via a dock (takes 1-2 hours for full charge) and lasts 8hrs or 100 transactions
Can also be used to sell your items online via iZettle's ecommerce site
Things to note:
Minimum transaction fee of £1
Cost:
Initial card reader £29 + VAT one off payment
Overall, this is a great and low-cost card reader for any small business looking to take card payments. Not being locked into a contract is a great plus point, meaning you won't have any ongoing costs after your initial investment in the card reader apart from your transaction fees.
3. SumUp
Highlights:
Accepts all major brands of cards
Fixed rate of 1.69% per transaction
Comes with a white card machine
No setup or delivery cost
Accepts contactless, chip and PIN and signature cards
Remote payment (via a link to a customer @ 2.5% transaction fee)
App automatically connects via Bluetooth with card machine when you pick card as payment method
Not locked into a contract
Things to note:
You don't get the transaction fee back on any refunds
Initial cost:
Card reader costs £29 + VAT and is a one off cost
They also offer a 3G card reader (so you don't need a smartphone) for £69 + VAT
This reader is a good contender with low transaction and initial set up fees. There are just less add-ons and gadgets that work with this reader. However, it comes with a great advantage of not needing a smartphone if you go for the slightly pricier card reader.
4. Worldpay ZINC Reader
Highlights:
24/7 phone support
Accept major credit cards
Available in black
Contactless, chip and PIN and apple watch compatible
Remote payment (via a link to a customer based on a transaction fee – quoted by WorldPay)
Comes with 12-month warranty for the reader
Receipt can be issued by email or SMS instantly
Things to note:
A steeper 2.75% transaction fee unless you pay £5.99 a month which then lowers it to 1.95%
Fees depend on turnover and a few other variables
Sign up for a quote on their website for fees
Require PCI (payment card industry) compliance
Costs:
Card reader £39.99 including VAT but has been as much as £79.99
No set up fees beyond buying the card reader (if you are happy with the higher transaction fees)
Contract monthly £5.99 if you want lower transaction fees
Although still a highly rated app, the transaction fees are a little steep compared to other competitors in the market. Without any significant plus points over competitors it could be worth looking at others especially if you are on a tight budget.
5.Smart Trade APP
Highlights:
Does not require a card reader (just scan card with your smartphone)
Option to pass on the card fees to your customer
Can be used to pay face to face, over the phone and through paylinks on emails
Can create customised invoices to send out
Accepts all major cards as well as foreign cards
Can send paperless quotes to customers and have a one click button for them to accept
Allows easy integration for some accounting e.g. Xero, quickbooks etc.
Things to note:
More aimed at tradespeople
You are in a contract but can cancel at any time
Cost:
No card reader needed just the app which is free to download
They also have a 30-day trial
After the trail you will need to sign up to 1 of 3 plans:

Business: (up to 15 users) 1.85% plus 20p flat rate per transaction plus £26.99 a month
Enterprise: (Up to 50 users) 1.75% plus 20p flat rate per transaction plus £89.99 a month
Sole Trader: (one user) 2.15% plus 20p flat rate per transaction plus £9.99 a month
A great choice for those who don't want to bother with a card machine and for those who want to pass the transaction fee onto their customers. The higher cost transaction fees and monthly payments would mean it is not so cost-effective for business, but a good option for those with relatively limited but high-value transactions.
As you can see from above there are advantages and disadvantages to all of the top 5 card machines. To help you choose the best one for your event/business type I have set out some influencing factors and recommendations on what card machine might work best for your event or business.
Large scale event e.g. outdoor festival, trade show

Things to consider:
Number of hours trading

If it's a long time you will need a power supply

Size of event

If It's a large-scale event with lots of other people and vendors, you could be fighting for signal for payments

Expected number of transactions

Some have minimum spend caps on or have higher charges if you do only a few transactions

Expected use

Is this a one off or will you use the card regularly? – If it's a once in a blue moon you use it consider the fact some charge dormant fees.
Good card reader option: iZettle is a great reader when it comes to the following:
Battery life and power (charges super quickly and lasts 8 hrs)
No fees for inactivity/not regularly used
Flat rate for fees no matter how many, although minimum spent of £1 which most of the time is not an issue
When it comes to signal being an issue there is not a huge breakthrough card machine that can overcome this. Some ways to help with this machine are:
Send remote payment links (your customer can pay later through a link on their phone if the transaction would not go through).
Think about getting yourself a remote dongle so you have your own personal Wi-Fi connection. This will boost your chances of being able to take payment quickly and easily.
Charity Event
Fees/cost

You want to be paying as little as possible
You can even pass on the fees to your customer to keep costs down as much as possible
Similarly, you don't really want to be locked into a contract unless there are some serious benefits for you.
Number of transactions

Like above, if you rarely plan to use it be careful as some companies charge dormant fees for inactivity.
Based on that, a good card reader option: Although the Smart Trade APP is the best in regards to passing on fees this comes with a monthly minimum cost of £9.99 for a contract. Other competitors for examples square reader don't have any monthly fees or contract so means you will only be paying a transaction fee, which if you are savvy enough you could include in your selling price to help keep costs to a complete minimum.
Shop or stall
Look

Your aesthetic and look may be more important here, so the option of colour is nice.

Online selling options

Possibility to use the card reader's eCommerce site to sell your items on to widen your selling opportunities

Recurring payment

Might want to set up recurring payments if it's an item someone wants to buy regularly
Good card reader option: iZettle again, is a great option for a shop or stall. With the option to choose white or black carder readers, and the option to sell on iZettle's eCommerce it's certainly a good purchase. Although you can't set up recurring payments you can send regular payment links out manually to customers to get payment.
To summarise, why are card readers a great investment for your events business?
Shorter queues due to quicker transaction times

Payment in just a tap as opposed to routing through for change
More customers served = more cash and quicker waiting time = happier customers

Safety

None/less cash on site
Money straight into your account (can't lose it)

Easy to track

Connect your account to a financal programme, it helps track finance, and pulls out key figures etc. to help you report your business profits and loss.
Also helps with business credit rating, which in turn can help if you want to borrow money.

Add validity to business.

Make your customers feel you are more legitimate.

Recurring payments can be set up.
Increased spend

Your consumer is not limited to just what cash they have on them – they are more likely to splurge a little more!
Conclusion
I can safely say a card reader at your event or for your events business would not be a poor purchase. Although there are many more than the 5 card readers above, these are the ones that have been tried and tested more and therefore have greater reviews. If I had to choose one for my events, as a failsafe and cost-effective way of taking payments however, Zettle would be my option if just the card reader was needed. If more established, and on the lookout for a more middle of the road reader with a few extra add-ons Square reader would a next best great option, with the ability to print receipts from the terminal without the restriction of a minimum transaction fee.
Share this content: